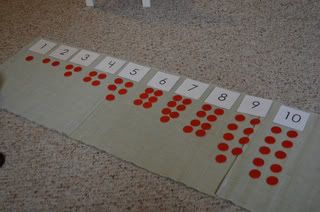 This week, I'm sharing a Montessori Math Material called Cards and Counters. This work can be made by anyone, with little or no cost. The material is used for practicing counting with one-to-one correspondence and learning the concept of odd and even numbers.
All you'll need:
Cards, labeled from 1-10 (mine, pictured here, are just typed numbers I laminated)
45 identical objects (Objects that are different, paired with numerals is called the Sets Basket, which involves sorting and counting. Cards and Counters is simply for counting)
To present the lesson:
Show the work, tell the child the name of the work
Help the child lay out the cards in order
Take one at a time for each numeral card, laying them in pairs.
If there isn't enough to complete 10, there would be a mistake. This is known as built in Control of Error.
Show the child how to run his finger between the paired counters, the counters who do not have a pair are known as odd. The numbers that have all pairs is called even.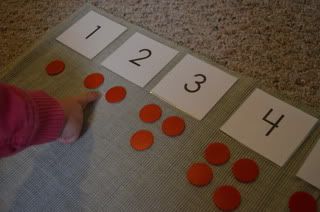 Sometimes, I like to change the counters for seasonal fun to add interest. This month at home, I have little orange leaves.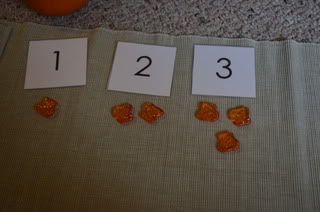 What will you count?
Jessie is a Primary Montessori Teacher and Mom to twin three year olds and a five year old. Jessie has a Montessori blog at The Education of Ours, and can be found on Twitter.