The Pink Tower is one of the most recognizable Montessori Materials. It's simplicity stands as an example for the beauty of all classic Montessori Materials. The Pink Tower is a Sensorial work, for visual discrimination. The child can clearly see and feel that the only difference in all of ten cubes is the size. While working with the Pink Tower, a child may notice that the weight of the cubes increases and decreases with the size. Many Sensorial Materials have built-in skills for later math work. The Pink Tower is ten cubes, increasing in size by exactly 1 cm each.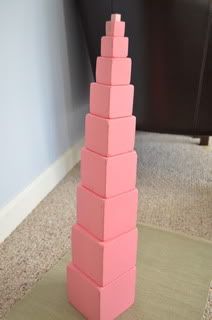 To begin work with the Pink Tower, invite a child (be sure he/she is over the stage of mouthing, the smallest is just 1cm) and name the work. Show how to carry one block at a time, placing it on the mat in random order. "This is the smallest cube." "This is the largest cube." Build the tower from the largest to the the smallest and take the time to admire it. Take it apart one at a time and place on the mat again. Carry each cube back to the shelf individually, using two hands. If the child builds the tower in the wrong order, don't correct him, but wait until he's finished and see if he notices that the tower isn't tapered like it was on the shelf. Once the Pink Tower is mastered, try pairing it up with the Brown Stairs. They are the same height, but vary only in width. So many possibilities with such simple materials!
Jessie is a Primary Montessori Teacher and Mom to twin three year olds and a five year old. Jessie has a Montessori blog at The Education of Ours, and can be found on Twitter.