This week's craft isn't a classic Montessori Material, but a craft used to promote emergent reading for ages 4-5 that I use as an extension on the classics. We love them for car rides and on-the-go activities. Before introducing these bead strands, use the Sandpaper Letters, Object Box One, and the Movable Alphabet (for consonant-vowel-consonant words or Pink Series reading activities).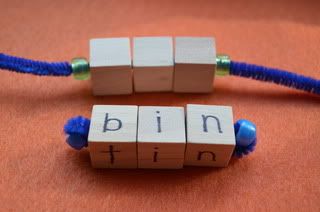 Materials needed:
Strong string or pipe cleaners
Wooden block beads
Permanent Marker
Small stopper beads
A child ready to start blending letter sounds into words
Simply brainstorm the word families you want to explore with the children, then string and tuck the ends in! It is so fun for them to spin the letters to change the initial sound, making a new word!
Jessie is a Primary Montessori Teacher and Mom to twin three year olds and a five year old. Jessie has a Montessori blog at The Education of Ours, and can be found on Twitter.